Is Mandalay Bay Poker Room really that bad? If you have been reading my poker room reviews, then you already picked up on two things. One, I'm usually supportive of poker rooms in Las Vegas. I love the city and the energy it brings, especially on the felt. Two, these aren't normal poker room reviews.
I will tell you everything you need to know about cash games and poker tournaments, but I'm also going to add poker stories. As someone who is 50% poker player and 50% writer, I must tell poker stories. That also brings me to my point. I dropped a hint in the paragraph above. Maybe you can figure out the mystery prior to the conclusion of this Mandalay Bay Poker Room review. Maybe not. Time will tell.
Mandalay Bay Poker Room Location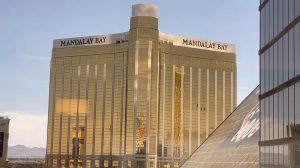 The Mandalay Bay Poker Room is located in Mandalay Bay (channeling Captain Obvious). What's important about this fact is that Mandalay Bay is the furthest-south poker room on The Strip (Yes, South Point is further south, but I mean a reasonable walking distance). This means a lot more than you think for poker games.
Since the Mandalay Bay Poker Room is so far away from the center of The Strip, you're not going to find many people walking here. The only place people will be walking from will be their hotel rooms and the Luxor. There has been some added traffic to the Mandalay Bay Poker Room since the Luxor Poker Room shut down.
However, the influx of traffic hasn't been great due the closing of the Luxor Poker Room because Excalibur also has a poker room and is north of Luxor. Therefore, anyone looking to play some poker on their way to or from The Strip is going to stop at the Excalibur Poker Room, not the Mandalay Bay Poker Room.
The good news is that since the Mandalay Bay Poker Room is so far from the center of The Strip, and since there is no tournaments series to drive poker pros to this venue, you will almost never find poker pros here. You might find some locals playing poker at the Mandalay Bay Poker Room, but not as often as you might think, and there is an interesting reason for that.
Mandalay Bay Poker Room Secret
I cannot deny or confirm the following information. All I can say is that I have accumulated a decent amount of friends and acquaintances in the poker world, some of which live and work in Las Vegas and know what goes on behind the scenes.
It has been rumored that while the staff at the Mandalay Bay Poker Room is incredibly friendly and efficient (I can confirm this), they will not act quite as friendly to locals. That's because the Mandalay Bay Poker Room tends to attract the following: people staying at Mandalay Bay for a convention, people staying at Mandalay Bay to party, and people staying at Mandalay Bay for one of the best sportsbooks in town.
These are usually people with money, or at least people who want to spend the money they have. If there are locals in the poker room grinding it out, the visitors with money will not enjoy their time at Mandalay Bay quite as much. Remember, this poker room doesn't rely on Strip traffic. It must keep its most important guests happy.
Mandalay Bay Poker Room Opponents
If you plan on playing cash games at the Mandalay Bay Poker Room, then you're likely to find opponents that fall into one of the above categories. This is good news. These aren't people who implement a poker strategy, and they certainly don't apply poker rules for winning. They tend to play a lot of poker hands, and they're almost always playing their cards.
They are also the type of players to fire random bluffs, and they're usually big bluffs. When I say 'random bluffs,' what I mean is that they don't bluff in the right spots. In other words, they're not thinking, okay, a bluff makes sense here because I can represent the straight.
A good poker player will rewind the hand and every action that player has taken since pre-flop. They will then put the pieces together and see if the story makes sense. If that sounds too complicated to you, or if you don't have the energy to go through everything your opponent has done throughout the hand, just look at the physical tells.
These players have no idea how many physical tells they're giving away. You can go back to Physical Tells 101 since the majority of them don't keep up with the game. All you really need to remember in the Mandalay Bay Poker Room is the following: Strong is Weak, Weak is Strong. If they're acting like they have a monster, they're weak. If they're acting like they have nothing, they have a monster.
Want further confirmation, look at them after they place a big bet. If their body and face seems unnatural/stiff, it's likely a bluff. If their body and face seems natural/relaxed, they likely have it. I would usually tell you to be wary of the crafty player that can send fake physical tells with ease, but you don't need to worry about that at the Mandalay Bay Poker Room. These players are simply following the basic poker rules and playing a lot of poker hands. That's it.
The only reason I play here on occasion is for my books, for articles like this, and to have knowledge on the Las Vegas poker scene. It's my job. I don't play poker games at Mandalay Bay Poker Room to make money. I'd rather win, but I'm not going to win much, which relates to the stakes offered. See below.
Mandalay Bay Poker Room Cash Games
There are only 10 tables at the Mandalay Bay Poker Room, and despite most of the people playing here having money, you're never going to find high stakes. Below are the stakes offered:
1/2 NL
Buy-in: $100-$300
Runs: Always
1/3 NL
Buy-in: $100-$1,000
Runs: Occasionally
2/5 NL
Buy-in: $200-$2,000
Runs: During busy hours
A 3/6 Fixed Limit game will also run from time to time.
The 1/2 NL game is blah. The rake is standard at $5 with a $10 max, but there is also a jackpot drop. If you're going to play the 1/2 game here then go in with the attitude of kicking back and enjoying yourself. It's a relaxing environment and a nice poker room, but there is no tableside food service, so you will have to run to the deli or pizza joint to grab something to eat.
If you do that, you might worry that you will miss something, but what you will likely be missing is a bunch of people who work together talking about work. They will likely be in town for a convention, and they will be having a few drinks while playing 1/2. From a poker strategy standpoint, it's impossible to figure out what these people are doing because they have no clue what they are doing.
This can be frustrating when the alcohol kicks in and they begin talking to each other as though they're all 8-time WSOP bracelet winners. It gets to a point where you want to kick yourself in the head so you will go unconscious until the session is over. Fortunately, most poker players don't stretch that much, so this isn't possible.
There are High Hands and Rolling High Hands at the Mandalay Bay Poker Room. For the former, a Royal Flush pays $300, Quads pay $100, and Jacks Full or Better pay $50. For the Rolling High Hands, it runs daily from 10 a.m. to 3 p.m. and the pool begins at $150. If nobody hits, $100 is added every hour until it hits.
If you play cash games at Mandalay Bay Poker Room for at least 20 hours in one week, you earn a free entry into the Saturday night 6 p.m. tournament, which is a $65 buy-in. Now that we're on the topic of Texas Hold'em poker tournaments, it's about to get a little heated.
Mandalay Bay Poker Tournaments
Most people who write about poker will write the facts and move on. They're getting paid so what do they care. I care. If you are reading my content, then I see you as an ally, and I'm always going to do everything in my power to help my allies. You will see what I mean in a minute. First, I'll post the schedule for Texas Hold'em poker tournaments at the Mandalay Bay Poker Room, which is simple…
Every Day of the Week
11 a.m.
Buy-in: $65 ($45 + $20)
GTD: None
3 p.m.
Buy-in: $65 ($45 + $20)
GTD: None
10 p.m.
Buy-in: $65 ($45 + $20)
GTD: None
You get 10,000 chips and the blinds increase every 15 minutes. You can re-enter as many times as you'd like during the first hour. Can you spot what's wrong with the poker tournaments at the Mandalay Bay Poker Room? You might think it's the low chips relative to the short blind levels. That's one problem because it reduces the impact of any poker strategy and increases variance. But that's not what I was talking about.
Look at the buy-ins. The $45 + $20 means the Entry Fee is $45 and Deductions are $20. Therefore, when you pay your $65 buy-in, only $45 of it is going to the prize pool. Not only is this rake outlandish, it's the highest I have ever seen in my entire life, and I have played in a lot of poker tournaments. This is highway robbery.
I sometimes talk about Greed being a poker player's second biggest enemy (behind Ego), but that can also apply to a poker room. I say this because I know that many people will be reading this article, and I know what is written here will be influential, especially for people not familiar with the Las Vegas poker scene.
What I'm trying to say is that Greed can hurt a poker room as well. I'm not the only person who has called out the Mandalay Bay Poker Room for this insane rake on their daily poker tournaments. The more it's written about, the more people know about it, which then leads to fewer people going to the Mandalay Bay Poker Room.
I will be also be writing a book, Vegas Daily, in the near future. The premise is that I go to Las Vegas for one week and play in Daily poker tournaments around town with one of my fans (he won an auction for this experience); we will see who ends up winning more money (or who loses less money). Since this will be for a book, we will try to hit every poker room on The Strip at least once for a Daily poker tournament. That's kind of important since it will be called Vegas Daily.
My point is that we will hit the Mandalay Bay Poker Room. I will play in one Daily here no matter what, but if the rake is still as high as it is now, I'm going to have to mention it in the book as well. I would much rather help a poker room, but if they're doing people wrong, then I just can't do it.
Final Thoughts
You probably figured out the hint in the first paragraph by now. You might have picked up on it immediately. If you still haven't figured it out, while I hate to write it, I wouldn't recommend playing poker at the Mandalay Bay Poker Room.
If you're playing in the poker tournaments, then you're paying the highest rake in the history of the universe. That's an exaggeration, but it's still the highest rake I have seen for a poker tournament.
If you want to play a cash game, then 1/2 NL is the only thing that runs consistently, and it's not easy to win money in a 1/2 game because the buy-ins are low and you don't have enough room to maneuver. If you want to play 1/3 or 2/5, they're sometimes available, but if poker games are only sometimes available, it means they eventually break.
This puts a time limit on the game, which makes a poker player uncomfortable. You want to know that you have time to grind out wins in a cash game. And unlike most other poker rooms in Las Vegas, if the game breaks, there is no other game with the same stakes to jump into.
I really want to recommend the Mandalay Bay Poker Room to you, especially because of the friendly staff and comfortable atmosphere, but if I want to earn reader trust, then I must be honest. For the reasons given above, I would not recommend the Mandalay Bay Poker Room. Hopefully, they will make some changes and I can update my review in the future. For now, choose a different poker room in Las Vegas. You have plenty of options.
♠ pokerjournal.org
Mandalay Bay Poker Room – FAQ
Does Mandalay Bay have a poker room?
Yes. Mandalay Bay has a poker room.
What kind of poker do they have at Mandalay Bay in Vegas?
It's a comfortable and well-run poker room, but it doesn't get a ton of action because it's not center-strip. However, most of the people who play at Mandalay Bay are there to party or for a convention. It's very rare you will find a poker pro at Mandalay Bay, which is why I will play there sometimes.
How much money do you need to play poker at Mandalay Bay?
You only need $100 to buy-in to the 1/2 NL or 1/3 NL games. They always spread 1/2 NL and they sometimes spread 2/5 NL ($200 min buy-in). The 1/3 NL game is rare.
Does Mandalay Bay have poker tournaments?
Yes. You can get into most of the poker tournaments here for $65. The Saturday at 6 p.m. is the only one that is more expensive at $120.