If you want to play poker and have a lot of fun while doing it, go to Las Vegas. This is the only place in the world where you can walk out of one poker room and right into another one in less than five minutes and do it over and over again. The trick with playing poker in Las Vegas is that you need to know which poker rooms to enter. A lot of that will depend on what you're seeking.
For example, are you looking for glitz and glamour? Great action? Soft games? Cash games? Poker tournaments? By the time you're done reading the information below, you should have a pretty good idea about where to play and where not to play.
Top 10 Poker Rooms In Las Vegas
Let's begin with #1, as in what I believe is the best poker room in Las Vegas.
The Wynn is widely known as one of the top poker rooms in Vegas, and many would consider it to be number one. The funny thing is that it's actually located in Encore, which is attached to Wynn. Either way, this poker room is legit. As you approach it, you will pass by a gorgeous pool setting and you might here dueling pianos from the lounge. When you arrive at the poker room, someone will greet you with a smile and ask what you would like to play.
When you play, you will be sitting in comfortable chairs and playing on a spotless felt while top-of-the-line dealers pitch the cards. Waiters and waitresses will come around frequently so you can order food and drink, and massage therapists frequent the room because they know this is one of the best rooms for finding money.
As far as competition goes, you're going to find a mix, but it also depends when you play. If you play in the summer during the WSOP on a weeknight, you're going to find much tougher competition than playing during the winter on a Friday or Saturday night. Despite the time of year and day of the week, I would regard the Wynn as a tough room in regards to competition, but it's still well worth the visit for the experience. When you're here, you feel like you're in paradise.
Some poker players won't play here because of Sheldon Adelson, owner of Las Vegas Sands, he made it his personal mission to shut down online poker. That doesn't matter to me. I view it as a smart business move, and as a live poker player, it helped me because it has led to larger fields and prize pools. What's funny is that the same people who shunned The Venetian are now playing there again. You can't fight the pull of poker. If it's in your blood, you're going to find a way to get on that felt.
The Venetian is a massive poker room with 37 tables, tying it with Bellagio for the most tables in Las Vegas. The difference is that the poker room in The Venetian is much larger, which allows for more elbow room. The poker games here are a little softer than the Bellagio. This isn't to say it's soft, but it's softer.
Additionally, you can find a game at any time of day and food options are very convenient, which is not always the case for poker rooms. Let's not forget that walking through The Venetian is always enjoyable. Look up and you will see that you're viewing a beautiful spring day, even though those white puffy clouds and blue sky are painted on the ceiling.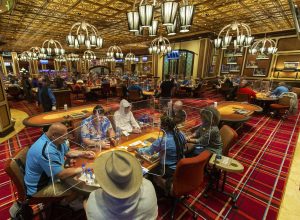 If you want top-notch in appearance, service, and competition, this is where you go. The room is a little tight, but it's still well worth a visit. If you play here and win, you're going to feel pretty darn good about it. It's possible to find weak games once in a while, but not many weak players enter the Bellagio poker room. Even if people with money are staying there, they're going to hesitate.
If you choose to play here, you will have a view of Bobby's Room, which is a private room within the poker room. The minimum buy-in in Bobby's Room is $20,000. I highly recommend you never enter that room. This room has the highest limit poker action in the world, which relates to the minimum buy-in. This, in turn, attracts the best cash game players in the world. It is without a doubt one of the most competitive poker games in existence.
Even if you can afford it, put your ego aside and play something else. If you win, they will talk you into playing more until you lose. These aren't people who use today's GTO poker strategy. They're old school and they know how to extract your money. They stay within the poker rules, but they're crafty. Beware!
This is another classy establishment. I'm only putting it #4 on the list because so many people think it's one of the best poker rooms in the world, not just in Las Vegas. If so many people keep saying the same thing, then I have to admit that I might be wrong. It's a beautiful room, and I know they run some juicy poker tournaments, but something about the room feels uptight and pretentious to me. I can't pinpoint it, but it's almost as though people go here to be seen at the Aria rather than to play poker.
I have never had a problem at Aria, and the service has always been great, but between being a little far away from the center of the action and pretentiousness, I can't get into it.
As far as action goes, it's pretty good, but it's also solid action. In case you didn't notice, all of the poker rooms mentioned so far are competitive. That's because these are places that attract money. If someone has money and they're playing in a cash game, they are a threat. They can also be the biggest whale in the world, but rich people with no poker skills don't play poker at Aria poker room often. When you approach this poker room, you know it's serious, which will drive away most wealthy people just looking to have fun.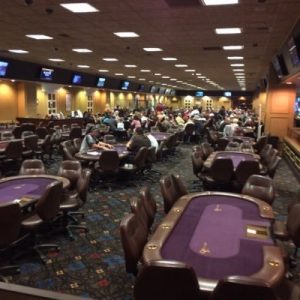 This is the perfect place to play if you're looking for fun, a ton of action, and no frills. With 35 tables, a ton of space, great service, and a food court right on the other side of the bar, you can't go wrong. You also have to take into account that these are middle-income poker players. They're not rich and steamrolling tables. Poker strategy actually comes into play.
The Orleans is widely known by local poker players as one of the best poker rooms in Las Vegas. They offer all kinds of cash games, even Fixed Limit, as well as poker tournaments. The daily tournaments here are known to be soft. Unfortunately, I didn't have a chance to play in any of them because they had their summer series running while I was there.
Other benefits to The Orleans include 15 restaurants, a movie theater, a bowling alley, and all-around great customer service.
This is a poker mecca with 22 tables and tons of action. People don't come here to party. They come here to play poker or watch a rodeo (most of the time). For poker games, you can find everything from Texas Hold'em to Omaha to Pineapple. You will also find poker tournaments, including deepstack and turbo. The room is very comfortable with padded swivel chairs and large televisions playing sports. South Point is off-strip so it's not very convenient for most people, but once you're here, you won't want to leave.
The Golden Nugget goes by several different names in the poker world, including GN and The Nugget. Its downtown on Fremont Street. Therefore, when you walk out the back entrance, you're going to witness some interesting things, which might include a miniature Elvis, a half-naked Santa Claus, or a six-foot man crawling into a tiny metal box. It's complete insanity.
As far as the poker room goes, it's pretty soft compared to the other rooms mentioned above. That's because most professional poker players don't stay downtown. Golden Nugget is the only good action downtown (Binion's is disaster and literally sad). This means that most people playing poker at The Nugget are staying in Vegas for a good time (and the pool) and are just playing some poker. They're tourists and home-gamers. These are the people you want to play against if you want to make money. It's also why The Nugget is one of the best poker rooms in Vegas.
To be honest, there is nothing incredibly special about the Caesars Palace poker room. What stands out, and the reason it makes the list of best poker rooms in Vegas, is good service, plenty of action, and people with a lot of money staying at Caesars Palace and donking off chips. If you want some luxury while also playing against a soft field, this is your best bet. There are no other poker games in Vegas that match that description.
I recently posted something on Facebook to a poker community asking what people thought was the softest poker room in Las Vegas. The Winner: Planet Hollywood, which is referred to as PH.
This poker room attracts the party people, without a doubt. You will find more drunks here than all poker rooms in Vegas combined. Therefore, it doesn't even matter which poker games you choose. Some of your opponents will be there because of the loud music and the girls dancing in the Pleasure Pit. They aren't there to play poker. And that's great news for you. If you're ever in Las Vegas and you need to pick up some money, go straight to PH.
This is a similar situation to PH in regards to picking up money, but for a different reason. The majority of people who play here are low- to middle-income folks who are in Vegas for the shows and other entertainment. At least 80% of the people playing poker at the Flamingo are terrible poker players, a great place to start if you are new to poker. You will very rarely find a poker pro enter this room because it's small and the stakes are low. However, you will find me there if I want to turn around a bad streak or want to pad my pockets for a tourney buy-in at one of the other poker room on the strip.
In addition to what might be the softest poker competition in the universe, the staff here is friendly and energetic. At least that's usually the case. When I was there last time, their air-conditioning was going in and out, so the staff wasn't as happy and energetic as usual. Apparently, this had been going on for more than 24 hours and still hadn't been fixed. Hey, it's not the Bellagio. But that's also why you want to be there.
Poker Room Honorable Mentions
Bally's – soft competition, friendly staff, great poker tournaments.
Mandalay Bay – probably the most comfortable of all poker rooms in Vegas but too far away from the action. Unfortunately, it's really the worst in LV.
MGM Grand – Very soft on Friday and Saturday nights due to being on casino floor, but it has no differentiation and is very basic in appearance.
Poker Rooms to Stay Away From
At one time, The Mirage was the best poker room in Las Vegas. Then they decided to put walls on the sides of their poker room while many other poker rooms opened up on the strip. Now The Mirage is a small poker room with bland walls on both sides and mostly regulars playing. It is by far the most boring poker room in Las Vegas. If there were poker rules for a traveling poker player, it would be to avoid playing poker at The Mirage because it's like watching paint dry.
Final Thoughts
As stated at the top, the best poker rooms in Vegas depend on what you're seeking. You want an elegant atmosphere, go with Wynn, Venetian, Bellagio, or Aria. If you want soft action, go for PH or Flamingo. If you want something in the middle, consider South Point, Golden Nugget, or Caesars Palace. They all offer a little something different.
♠ pokerjournal.org
Poker Rooms in Las Vegas – FAQ
How many poker rooms are in Las Vegas?
There are 31 poker rooms in the Las Vegas area. I wrote about most of them in my poker adventure book, Felt Hopper: Las Vegas. If you want to feel Vegas without being there, I recommend reading that book.
Where can you play poker in Las Vegas?
Tons of places, especially on The Strip. If you're a beginner, then I would highly recommend playing in one of the two softest poker rooms: Planet Hollywood or the Flamingo.
How much money do you need to play poker in Vegas?
If you play at the Flamingo, you can bring $100. If you play at Aria or Wynn, you are going to need at least $300 to even have a fighting chance. It just depends on the venue.
What kind of poker do they play in Vegas?
Las Vegas is unique because it's the only location I have played that has different playing styles. It depends on the venue. For example, they play soft-passive at Bally's, there is a ton of dumb gambling at PH, there is cluelessness at the Flamingo, and there is great play at the Wynn.