When you're playing poker, it's imperative that you pay attention to everything. These Texas Hold'em poker tips you must listen carefully on the poker table, you do this with your eyes and ears. Once you get really comfortable with this, you will get to a point where you can look at your phone for hours while still paying attention to everything that's taking place.
Your eyes aren't really on the phone, they just appear to be. This is a great tactic because the player that thinks you missed something will be mistaken, which means he might attempt the same play on you later. If he knew you saw his previous play, he would go the opposite direction in the same situation later. I'll give you some examples.
Playing Against a Tough Opponent
When I was playing in Pearl River a few months ago, I was at the second final table and sitting in Seat 2. My biggest threat at the table was sitting in Seat 1. He had boatloads of chips stacked so high that they nearly reached his chin. What made this worse was that he was a great poker player. He understood poker strategy in a way that most people don't. He wasn't a GTO player, but he understood it. And he wasn't strictly a psychological player, but he understood it.
By understanding both aspects of poker strategy, he was able to use what tools he needed at the right times. He played fewer poker hands than most players, which made him appear tight, but he would use that image to his advantage. In other words, he would bluff when he felt he could get away with it. He was a similar player to me. I needed to make a mental note of this, but how it played out might surprise you.
Paying Attention, Not Applying
This was my first of two poker tournaments at Pearl River. Therefore, I had never played against this player before. For simplicity purposes, I'll refer to him as T. By the end of this hand, you will understand the message and should register this as one of the most important Texas Hold'em poker tips I have written about.
I was in the Big Blind with K2-off. This is one of those poker hands that I would only play if in the Big Blind and there is no raise. I will apply pressure with K2-suited in late position and no action to me, but that's a completely different type of situation. In this particular situation, there were two callers: one from middle position and T from the Small Blind. I was surprised T didn't raise yet happy about it.
I checked.
Flop: JT2-rainbow.
T checked.
I checked.
The player in middle position checked.
Turn: 6
T bet out half the pot.
I called.
The player in middle position folded.
River: J
T quickly grabbed a large stack of chips, which was slightly more than the size of the pot, and placed them down in front of him. He didn't look at me directly, but his facial expression portrayed a mix of artificial intimidation and genuine concern. That was a major factor in my decision, but I also had to read the board.
A player like T would never check the flop when first to act in a three-player pot if he hit any piece of that board. Therefore, all pairs and draws related to the flop could be immediately eliminated. A pair of sixes was a possibility for him, but still not likely. The river paired the board, which meant I could easily represent the Jack with a raise and take it down. The only reason I didn't do that was because he bet so big on the river and I didn't want to risk that much of my stack. Instead, I just called with my pair of twos with a King kicker.
He turned over Queen-high. When I tabled K2, he didn't say anything, but I could tell by the look on his face that he had sent himself a message: "Don't try that against this player again."
I'm not writing that to show-off or anything like that. In fact, it's quite the opposite, which you will understand in a moment. In the tournament referred to with the K2 hand, I made the final table and T won the whole thing.
The next day was another event. Little did I know that I would find myself at the final table with T on that day. It's not often you play in two poker tournaments and make two final tables, and it's extremely rare to see the same opponent both times.
Remember this entire subheading and refer back to it often. As stated above, this is one of those Texas Hold'em poker tips you will never want to forget because it will help you in the future, especially in poker tournaments. On this occasion, T was two seats to my right instead of one and we had a similar situation.
When he was on the button and everyone folded to him, he raised my Big Blind when I was holding:

I raised three times his bet and he called. Since he just called, I knew it wasn't a premium hand or rags. If he had a premium hand, he would have re-raised me. If he had rags, he would have folded. He had to be holding something like QT, JT, Q9, J9, or any suited-connector or suited one-gapper.
Flop:

Interesting flop for AJ-off (no clubs). I bet out three-quarters of the pot for two reasons. One, to take it down without any nonsense if he whiffed. Two, to see where I stood.
T called.
Turn:

Yet another interesting card. I needed to know if he was on a flush draw, so I bet out three-quarters the size of the pot.
T called.
River:
This gave me two pair, but my radar was also sending natural signals that I was holding the losing hand and that this was a trap. Despite that, I went against the grain and played by the book in this spot (hate when I do that) and bet out (because that's what you're "supposed to do" in this spot).
T didn't hesitate, grabbed a large stack, and placed it down in front of him.
Does that sound familiar? It should. It's exactly what he did on the big hand the previous day, and it was a bluff. This would lead you to assume that he was bluffing because it fits within his pattern. However, were you really paying attention? Do you remember when I mentioned that T understood both aspects of poker strategy? He didn't just stick the basic poker rules. He was playing a deeper game.
By paying attention to T and who he was as a person and a poker player, I knew what he was doing. He knew that I remembered his same actions the previous day when it was a bluff. Therefore, he took the same exact approach in an effort to get me to believe it was a bluff.
Despite knowing this, I called, mostly because I wanted to know if I was correct. This is a horrendous reason to call, and that should be noted if you're keeping track of my Texas Hold'em poker tips.
As my natural instincts told me (which I didn't trust on this occasion), he had a straight. I ended up in 5th in this tournament, and T ended up taking 3rd. Once again, he outlasted me. He was on his home court, which was an advantage, but I still didn't like it. Then again, I'll never complain about two final tables in two poker tournaments.
What I'm trying to say in this section is that tells at the poker table go way beyond physical tells. If you pay careful attention and watch, listen, and understand who people truly are, you will gather a lot of information. In T's case, I knew by watching him that he was a very intelligent player (you don't see these very often) and that he would mirror the same play as a trap. I just didn't listen to my gut.
Now let's get to some more obvious tells at the poker table. These are all Texas Hold'em poker tips that you should write down somewhere or memorize.
Looking Intimidating
When you're at showdown and you're not sure if your opponent has a strong hand or air after a large bet, it's time to watch and listen. If your opponent is trying to look intimidating without looking you in the eye, it's likely a bluff. The direct look in the eye used to be a bluff, but many players are aware of that now and use it as a fake tell. Be careful with that one. But this also tells us that looking intimidating without looking directly at you is simply another variation of the I'm-Bluffing look.
Betting Speed
If your opponent went for his chips immediately and placed a big bet, it's one of two things (most of the time). It's either a straight-up bluff or he has a marginal hand. We know this because when a player has the nuts, he will almost always stop and think before betting in order to calculate how much he can extract from his opponent without his opponent folding.
Another reason for this pause is so he can look non-threatening. He thinks that betting quickly will look too intimidating. What he doesn't realize is that it actually looks weaker. If there is nothing to think about, he will act quicker. You have two options in this spot. One is to call, the other is raise. Every situation is different.
Leaning Back
If your opponent just made a big bet on the river against you and he leans back, talks to someone casually, checks his phone, etc., he has an absolute monster. Almost every time. This is one of the most important Texas Hold'em poker tips to remember because it's so reliable. He's trying to act non-threatening, and the key word there is "act." Fold!
He's Going Home
This tactic is only used by the dirtier players, but there are definitely dirty players out there. They will place a huge bet on the river—usually all of their chips—get up, put on their jacket and then say, "I just want to go home."
What's tricky here is that some people are genuine when they say this. Fortunately, it's easy to tell the difference in who is telling the truth and who is lying. It's all about the character. If you truly listened to these people while playing, you will have the answer.
The guy who was talking about adult entertainment, the cocktail waitresses, his night in jail for fighting, and his three ex-wives is lying and holding a monster. The friendly and soft-spoken character with the button-down shirt and dress pants is telling the truth and truly wants to go home.
Hey, profiling is part of the game and is one of the Texas Hold'em poker tips that needs to be applied. As far as those players talking to their opponent, it's within the poker rules because they're not talking about their poker hands.
Verbal Gears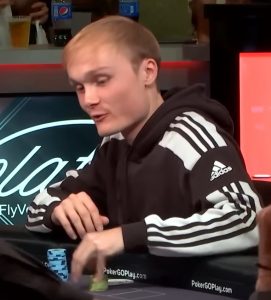 That's a bizarre subtitle for an article on Texas Hold'em poker tips. I get that, but you will also get it in a few seconds. When you're on the river and you're not sure what to do, go for your chips and watch your opponent's eyes. If their eyes follow your hands to your chips, it means they're excited about the prospect of winning those chips. This is one of the best Texas Hold'em poker tips because most people don't know about it.
Now … if you go for your chips and their eyes don't follow yet they say something, it means they don't want you to call. This is very simple. They see what is about to transpire and want to change the course of future events for their own benefit. Forget about what they say. That's not important.
They're trying to say something to confuse you so you will change your mind. Completely ignore those comments. Or, you can do what they don't want you to do and make a witty comment back. If you're that bold, that's good because you will be putting them on tilt, and putting an opponent on tilt ranks very high on the list of Texas Hold'em poker tips.
Final Thoughts
Now you know a lot more about the game and Texas Hold'em poker tips. If you keep reading this page, you're going to be a very dangerous player. I might not be the best poker player in the world, but I have been told that people don't like when I'm at their table. If you want to have that reputation, keep reading. See you at the WSOP!
♠ pokerjournal.org
Texas Hold'em Poker Tips – FAQ
How do you play against aggressive poker players?
Always play the opposite of your opponents. Therefore, you want to play tight against aggressive players. Most people will fight fire with fire, but that's Ego, and Ego will mess you up in Texas Hold'em.
How do you beat tight poker players?
Remember, always do the opposite of your opponents. You want to apply pressure against tight players. You will usually grind your way higher.
Should you play every hand in poker?
Only if you want to be King Donkey. If you played every hand, variance would be through the roof and you would be the worst poker player on the planet.
What is a LAG in poker?
LAG is a Loose and Aggressive poker player. This means they play a lot of poker hands and call/raise often.