If you want to become a professional poker player and you plan on focusing on Multi-Table Tournaments or MTT poker for short, you're going to need to be armed with some serious information. What most poker players fail to realize is that half the game is won off the felt.
This part of the game has nothing to do with the poker hands you play. This relates to gathering information, which then allows you to minimize costs while also finding the best opportunities for top-line potential. To keep things in order, let's first focus on minimizing costs, which relates to travel.
Minimizing Travel Costs
What you're about to read is something I don't share with many people. In fact, I have been working on a book for four years. It usually takes me a few months to write, edit, and publish a book. This one is much different because it shows the ups and downs of a poker player, with more of a focus on life than just poker.
One of the twists at the end of the book is that I don't just play poker on the felt. I truly believe that taking the approach that I'm about to reveal below is what gives me an edge over the rest of the field. Why? Because it's a poker strategy nobody else is using. This will all relate to finding the right poker tournaments. Please be patient.
The following is an off-the-felt poker strategy, and it definitely fits within the poker rules because it doesn't directly relate to the game. Yet in so many ways, it does.
I joined Facebook and sent out 3,500 friend requests to people in the poker industry. These were poker players, dealers, poker room staff, celebrities, home gamers, online players, massage therapists, waitresses, etc. I made sure that these people were spread out around the country as well as the world.
As expected, at least 90% of people accepted my friend request. It had nothing to do with me being a writer. It's because people like to have more friends. Once I was at 3,500 friends (I had four friends during my first few weeks on Facebook), perception became reality and people began sending me friend requests. I'm now always at or near 5,000 friends, which is the limit. I have also been told that I have the largest following for a poker personality on Facebook. That might be an exaggeration, but I'm not sure.
On Yelp, I used the same exact approach and sent friend requests to people all around the country. I'm almost always at the 5,000 friend limit on here. My reviews have approximately 82,000 views every 90 days and my photos have about 163,000 views every 90 days. Taking a storytelling approach helps. It's much better than the boring restaurant review.
I'm currently working on Instagram, which is much more time-consuming than Facebook and Yelp.
When I'm planning on playing in a tournament series, I take screenshots of my followings on my social media pages, then contact the Marketing Manager or the casino-hotel I'd like to stay. I tell them that I will take photos and post a detailed review on Facebook for the poker community and that I will review all their restaurants on Yelp.
Both are true. In exchange, I ask for a comped room. The response is yes about 80% of the time. A lot depends on the location. If it's Cherokee, North Carolina, I have no chance because Great Smoky Mountain National Park and the Blue Ridge Parkway are right there, so every hotel is always booked. If it's anywhere else in the country, or even internationally, I've got a shot.
That might not seem like poker strategy to you at first glance, but look again. Let's say the average hotel costs $100 per night and I'm staying for six nights. That's $600 (before taxes). Now let's say the tournament series I'm playing in has an average buy-in of $200 for their MTT poker tournaments. With a buy-in of $200 in a tournament series, it should be at least a $100,000 guarantee, which means about $25,000 for 1st place.
This means by not fearing rejection and sending out friend requests relentlessly, I built a following out of nowhere and allowed myself three free chances at $25,000 while also getting a free place to stay for six nights. In the world of MTT poker, there is nothing more valuable than a free buy-in.
I mean … let's get real. Who the hell am I? I write books that people find entertaining, but I'm not Phil Ivey. All I did was attack, attack, attack and leverage the results. You can do the same. Just think of a business angle in the poker world and you can pull it off, I promise. If you do pull it off, you will be staying at gorgeous hotel-casinos for free, reducing your cost to play, and having a blast. It's now to the point where people are asking me for radio interviews and to be bounties in their tournaments. If I created this out of nowhere, so can you.
The ultimate point here is that you need to build a brand using social media. You should also have something to sell, but even if you just create your own popularity, you don't need a brand. When I get those free hotel rooms, it has nothing to do with my books. It has to do with my following. Those hotels want more exposure. Fortunately, I can provide it. I'm giving them a great deal because the value of the exposure is much higher than $600.
Knowing Your MTT Poker Tournaments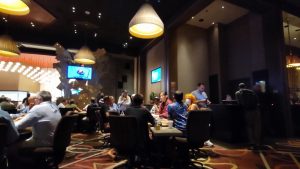 Now let's get to poker tournaments in a more generic sense. I'm not going to talk much about poker hands and stuff like that. I will focus on the best and worst MTT poker tourneys to play. A lot will depend on your location, bankroll, and experience.
As they say in real estate, location is everything. Let's assume that you haven't built a brand and you're not going to do it. Most people don't have the time to fire out friend requests to everyone in the poker universe. Therefore, forget about the buy-ins and types of tournaments you want to play in. The poker tournaments you should be playing in are the ones that you can access by car on a daily basis.
Just earlier today I had a woman from California contact me via Messenger. She said she needed to ask me because I was the only poker pro she knew that was friendly and approachable. That felt good. She told me that she kept winning in her local poker room and was well respected there, and she didn't know if she should move up in the MTT poker world so she could make more money.
According to her, she was averaging $200-$400 per day in her local poker rooms just by playing MTT poker. That sounds like a bit of an exaggeration, but I'll take her word for it. It's also possible she's been on a heater and that this streak isn't sustainable, but who knows.
Either way, my response to her was simple. It was that she should remain the big fish in the little pond because it was working for her. I explained that there was a tremendous difference between local poker room tournaments and something like the WSOP Circuit. I don't win every time in a local poker room tournament, but I win a lot.
The same can't be said for the Circuit. The field is so strong that the key is to score big when you have opportunities. More on this in a moment. For now, let's just say that I believe greed and ego are the biggest enemies in MTT poker. If you want to win any poker games, it's imperative that you stay where you are if you're a favorite.
You can then use the winnings over the course of a year to play in 1-2 bigger events in order to see how you do. By only playing in 1-2 bigger events, you will take those events much more seriously than someone who just throws money around and jumps from one poker tournament to the next.
A Quick List of Best MTT Poker Tournaments
Let's begin with the WSOP Circuit. I used to play about half the stops on the Circuit. Whenever I got into trouble with the $400 buy-in MTT poker tournaments, I would jump into a $135 Nightly and attempt to get my money back. This worked about half the time. I would simply wait for my opponents to make mistakes because they were such bad players, then I often find myself at the final table. Once at the final table, I told myself I would go into max-focus mode so I could win the whole thing.
The problem with the Circuit is that they have increased their rake, the buy-ins are high, and the competition is tough. This is not a winning formula. The Circuit also stops three times per year in Cherokee, which is my home court, but the rooms in and around Cherokee are expensive, and I can't get comped because they're always booked. My solution is to play much less on the Circuit (only when convenient and cheap) and to instead look for the best MTT poker opportunities.
If you're seeking the best poker tournaments to play in that are local to you, look at CardPlayer, PokerAtlas, and HendonMob. Somehow, each list is always a little different from the other. Make sure you review all lists so you have all the information. It has happened to me before where I go to a tournament series that's a ten-hour drive because I didn't know there was another series available that was a six-hour drive.
As far as reputation for tournament series goes, the WSOP Circuit is seen as the main stage, but poker pros are starting to get fed up with the recent rake increases. The Circuit tries to justify this by saying the players are getting more chips, but the players aren't buying it.
In order to combat the increased rake, a lot of players have stopped tipping when they cash in a MTT poker event, which hurts the dealers. This leads to the dealers looking for better gigs somewhere else, which in turn hurts the quality of dealers on the Circuit. This all began with increased fees. The same rule that applies to poker players can be applied to a poker tournament series: Greed kills.
RunGood is a much smaller series. The buy-ins are lower and there is a big emphasis on fun. In my opinion, the lower buy-ins makes it a lot easier to have fun. People are more laid back and the game of poker feels fun again. You might not win $100,000, but this really gets back to how the game used to be, which is refreshing.
There is one tournament series that has an even better reputation than RunGood, which is RunItUp Reno. This series is also known as being a lot of fun, and Jason Summerville, who runs it, is known to be one of the friendliest people in the poker industry. A cool aspect of this poker tournament series is that you have the option to stream your play. I wouldn't accept because I don't want people to know what I'm doing, but that's up to you.
WPT and WPT Deepstacks are also popular, but WPT Deepstacks is known for offering the best value MTT poker events anywhere in the world. They keep the fees low and the chips stacks high, which is what poker players want. Give the customers what they want and they will keep coming back. WPT is a big series, but there is an enormous emphasis on satellites. If you're not into satellites, it's not for you.
HPT and MSPT (Mid-States Poker Tour) are often overlooked, but those who play in these events love them. Despite standing for Heartland Poker Tour, HPT also stops in Florida (Daytona Beach), which gives it a lot of exposure to the poker world.
Regardless of which tournament series you play in, always begin with the lower buy-in MTT poker tourneys early in the week. Also look into small poker games in the regular poker room. If you get involved in high buy-in MTT poker tourneys or big poker games in the regular poker room, you could be out of cash halfway through the week.
It's much better to build your way up. And don't get greedy if you start out hot. Stick to what's working. If you apply these poker rules for winning poker tournaments, you should be just fine. I highly recommend reading the other poker strategy articles on this site in order to greatly increase your chances of winning.
Final Thoughts
Find an angle on the business side of poker, or build your social media exposure to a point that you can use it as leverage for comped rooms. This will reduce your cost and allow you to play in more tournaments. Whether you choose that route or not, understand which tours are offering the best values. All it takes is a little research.
♠ pokerjournal.org
MTT Poker – FAQ
What is MTT in poker?
MTT stands for Multi-Table Tournament.
How do I pick the right poker tournament for me?
If you're a beginner, then I would recommend focusing on lower buy-in tournaments, which will have softer fields.
How often should you cash in a poker tournament?
If you're playing low buy-in poker tournaments, then at least 20% of the time. If you're playing Mid-Major poker tournaments, then you want to aim for at least 15% of the time, but you better make these cashes count (go deep).
How do you win a big poker tournament?
A lot of patience and aggression at the exact right times and a little luck always helps.